The California Hacienda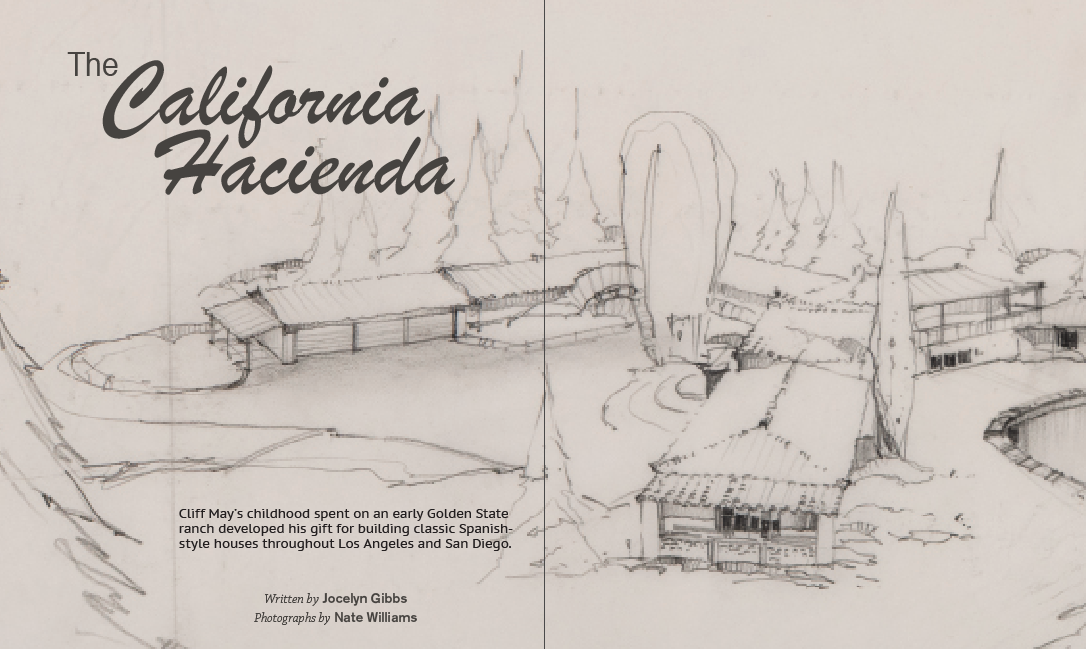 Cliff May's childhood spent on an early Golden State ranch developed his gift for building classic Spanish-style houses throughout Los Angeles and San Diego.
by Jocelyn Gibbs
Cliff May's prolific career as a designer and builder of modern California ranch houses and haciendas began in San Diego in 1931, but his legacy continued to grow long after his 1989 death. Although an untrained designer, May had a clear and lifelong vision of what a California house should look like. He had distinct thoughts about how California people should live. Indeed, his great talent was the ability to conjure, create and sell a California lifestyle.
During his San Diego years, May built about 30 houses. Those dwellings launched his career as a designer and won him significant local attention. His Los Angeles period was longer and even more successful. His first projects in the L.A.s area, built in the 1930s, attracted the editors of national magazines. After the war, he produced and licensed designs for more than 100,000 low-cost houses through his Cliff May Homes business, which existed from 1952 to 1958. From 1958 to 1989, May focused on custom-designing houses, which he built in the U.S. and in South America and Europe.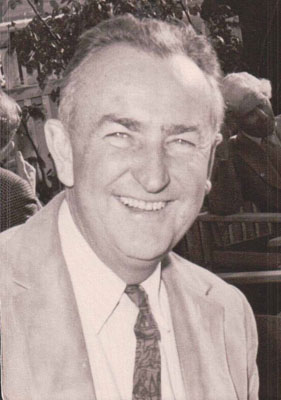 May's first L.A. projects were three houses, built between 1935 and 1937. They are significant because they catapulted him to national recognition. The house at 1920 Mandeville Canyon Road (also called the Lily Pond House and the Mildred Boos House) is one of these early designs and remains intact.
May was born in San Diego in 1909. Related to several land grant families from the Spanish settlement period, he was proud of his family's long history in California. Throughout his career, he drew upon that history and the mythology of the Spanish and Mexican eras for his designs. He spent his childhood summers at his aunt's Las Flores ranch in North San Diego. This experience instilled in him a vision of the ideal California house: a sprawling structure, low to the ground and open to the landscape. The Estudillo House was another model for May. His ancestor, Jose Maria Estudillo, had built the historic adobe in San Diego in 1827. May's familiarity with the vernacular buildings of California's settlement period was exceptional, It was also personal. "To me, when we lived on the ranch, with cross-ventilation and rooms spread out and around courtyards, basic old California plans, it seemed to be a much better way to build and live."
May's very first houses, built in San Diego with financial help from his future father-in-law and real estate developer Roy C. Lichty, caught the public's imagination. They sold quickly and no wonder. May evoked a romantic California past by creating two basic styles. He built "haciendas" with wood and rough plaster—to resemble adobe— and clay tile roofs. His "rancherias," which he thought would appeal more to clients from the East Coast, were constructed of board-and-batten with wood shingled roofs. A canny salesman, May often held openings for his houses at night so that garden lighting enhanced the romantic, rusticated surfaces and mix of Spanish, Mexican and California Mission décor.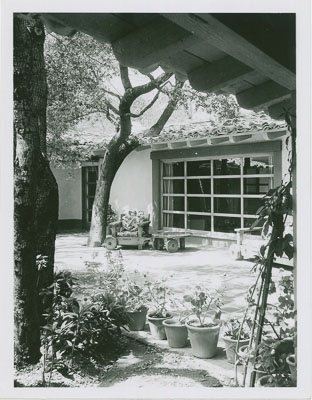 May's early success in San Diego caught the attention of the financier and oilman, John Arnholt Smith. After visiting several of May's houses, Smith commissioned a large hacienda on 40 acres in La Habra, just outside Los Angeles. (See article about the John A. Smith House in Architecture for Sale, Summer 2014 issue). This was May's first opportunity to design a luxury house. It was also a test of what he was capable of given a larger lot and budget. The project was a success. The Smith House (1934-1935) received regional and national attention from Sunset magazine, Architectural Digest, and Architectural Forum.
Shortly after meeting, Smith convinced May to move to L.A. and enter a real estate partnership. Smith would provide the financial backing and May would design and supervise construction. In his oral history, May recalled that Smith had been like a second father to him. Their fruitful, though sometimes contentious, collaboration lasted through 1940. At that point, the tensions between them and the war in Europe brought the partnership, as well as all non-defense construction, to an end. Their most significant achievement was Riviera Ranch, the upper-middle class development of sprawling ranch houses, riding trails and stables in the Brentwood area of northwest L.A. They had begun planning Riviera Ranch in 1938 and lots continued to be sold into the 1950s.
At the very beginning of their working relationship, Smith and May rapidly built three houses in L.A. Those projects mark a significant shift in May's designs and his fortune. In L.A., May suddenly had access to larger lots, wealthier clients, and greater publicity, thanks to the backing of Smith. The three houses he and Smith built in the Bel Air and Brentwood neighborhoods in 1935 to 1937 marked the beginning of his more urbane and modern designs. May described his earliest L.A. houses as "the Ranch House goes Modern!"
Two of the houses—the Stone Canyon House and the house at 1920 Mandeville—were speculative ventures. The third was a home for May and his family, built at 1867 Mandeville Canyon (1935-1936). The luxurious Stone Canyon House (1934-1935) in Bel Air quickly sold for the astonishing price of $39,500. In 1935, the average home price in Los Angeles was $3,450. Los Angeles was a new and bigger stage for May.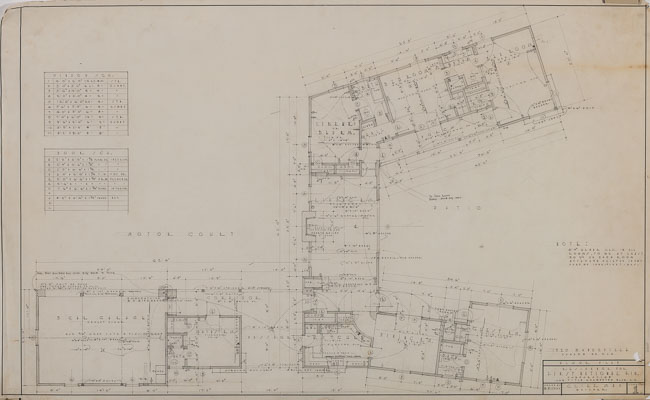 For the speculative house at 1920 Mandeville Canyon Road, Smith had purchased two lots, marked on the drawings as lot 29 and 30. The lots sat across the road from May's house, then under construction. Much of the romance and charm of this second spec house originally lay in the expansive views of a large pond on the property. For this special site, May designed a sprawling hacienda with plaster walls, wood-beamed ceilings, a pitched clay tile roof, and a motor court. Two short wings turned the house away from the road and toward private views of the pond, which was visible from almost every room. The Lily Pond House was the evocative name that became part of the sales-pitch narrative for the house.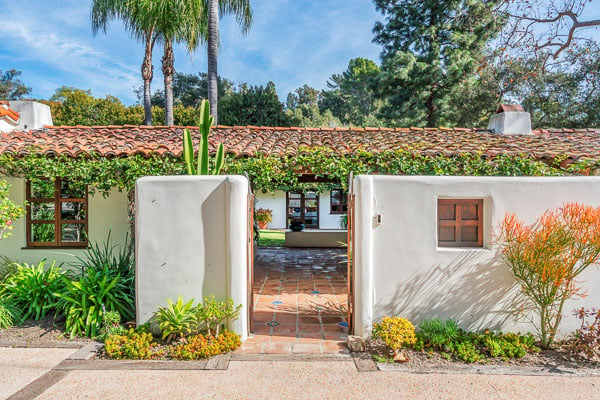 Shortly after the Lily Pond House was completed, it sold to Mildred Boos, who immediately commissioned May to design small additions (1937). A short wing was added off the original library. This wing, holding a bathroom, two bedrooms and storage, jutted out behind the house and further enclosed the original motor court. The original plan and elevations (Smith's First National Financial Corporation is noted as the client) and the drawings for Boos's extensions are preserved in the Cliff May archive at UC Santa Barbara's Art, Design & Architecture Museum. William Cody, a modern architect known best for his work in Palm Springs, did most of the drawings (he briefly worked in May's office).
Today, the footprint of the house at 1920 Mandeville is essentially as May designed it. And, much of the original charm remains. The wood beams, low-pitched clay-tile roof, loggias, and the meandering plan still evoke the architect's talent for creating scenic settings for the California good life. Subsequent changes in the house include swapping the locations of the dining room and kitchen and decorative moves that bring the house to more contemporary tastes and levels of efficiency. The most significant change, however, is the reduction in the size of the property. The lot with the pond was sold off and the neighborhood  around the former Lily Pond House is now thoroughly developed. The loss of the pond generated other changes in the house. A new corner fireplace, similar to the original fireplaces in the living room and the guest room, replaced the lovely corner window in the master bedroom. The former motor court is now a smaller courtyard. A more conventional water feature—a swimming pool—was added.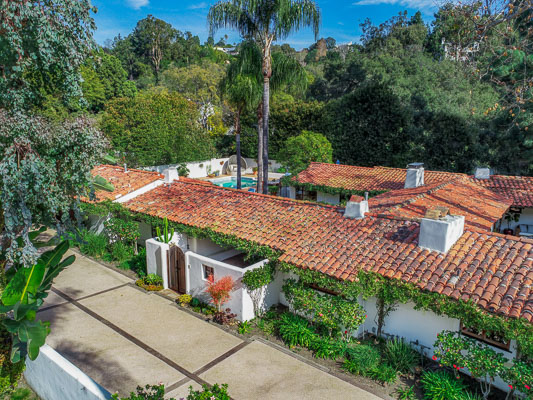 Even as May's designs became more modern and more sophisticated, his houses stayed low to the ground and tied to the landscape. His romantic Rancherias and haciendas offered space and openness. The best of them gave the impression that the lucky owner could step out of any room directly onto the ground and walk a short distance to saddle a horse, tend to an orchard, or row across a pond. May's designs were imbued with the romantic idea that beyond the immediate domesticated site of one's home was another, still wild landscape, waiting to be tamed.
Contact us about this property:

Error: Contact form not found.