Wright Time, Wright Place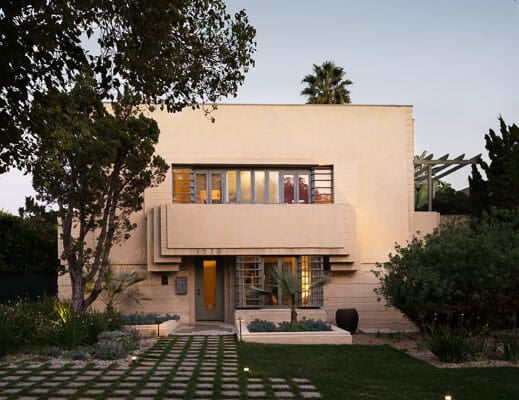 The Henry O. Bollman House isn't just another nod to Mayan Revival nostalgia. With its use of decorative concrete blocks, Lloyd Wright adapted what he'd learned working with his illustrious father and the innovative Irving Gill and made it his own.
by Kathryn Smith
As the fear and deprivation of World War I gave way to the optimistic building boom of the early 1920s, the modern movement in American architecture was developing in Los Angeles with its unprecedented experiments in material and form. If the leader was Irving J. Gill [see pg. tk], he was followed by his former draftsman, Lloyd Wright, and ultimately joined by Rudolph M. Schindler [see pg. tk] and Frank Lloyd Wright. What united all four of these architects was their passion for transforming concrete from its status as a raw and expedient building material into transcendent architectural form. When they succeeded, modern architecture was born in the United States a full decade before New York's Museum of Modern Art discovered it in Europe.
Of the four modern architects, Lloyd Wright occupied a central position because of his childhood exposure to the work of his father, Frank Lloyd Wright, his training in the Gill office, and his collaboration with Schindler on the construction of his father's residential work for oil heiress Aline Barnsdall in East Hollywood. Lloyd Wright served as his father's first apprentice as a consequence of his birth. The working studio was attached to the family house and the younger Wright observed his father's architectural experiments first hand, which included the world-famous Unity Temple (1905-08), a poured-in place concrete Unitarian church walking distance from his childhood home in Oak Park, Illinois, and a 1907 article he published in Ladies Home Journal, "Fireproof House for $5000," featuring his inventive design for a monolithic concrete dwelling. His exposure to the famous collection of his father's early Chicago work, published as the Wasmuth portfolio in Berlin in 1911, was an education unlike that of any other young architect: He not only studied the drawings as did Richard Neutra, Walter Gropius and Mies van der Rohe, he drew most of them by his father's side on a trip to Europe in 1909.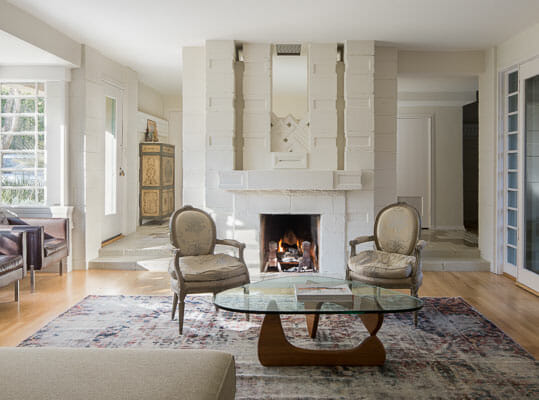 While Frank Lloyd Wright would remain a strong artistic influence, Lloyd Wright's career moved ahead in another important direction when he joined Gill's San Diego office in 1912. Arriving at the height of Gill's powers as an innovator in structure and form, he was exposed to a new rationalist vocabulary. Gill's public and residential concrete buildings were compositions in abstraction, with flat unornamented walls enclosing cubic volumes, declaring themselves as settings for a new way of life for the twentieth century. Thanks to his three years in Gill's office, Wright's experiences were critical to his own work and that influence is recognizable at first sight on approaching a Lloyd Wright building.
After Lloyd Wright's move to Los Angeles, his life took a fascinating new turn toward the dramatic arts as he began professional set design for the stage and screen, most notably as head of the Design and Drafting Department at Paramount Studios in 1917. He appears to have had personal contact with such influential figures as Norman Bel Geddes, who was in Hollywood at the behest of Barnsdall. These experiences coincided with an ill-advised brief marriage to an ambitious actress, Elaine Hyman, whose stage name was Kyra Markham. Hyman, eager to take her career to new heights in the New York theater world, convinced her husband to leave California and follow her there. The relationship did not survive the move. Lloyd Wright returned to Los Angeles by 1919 where his father, occupied with the building of the monumental Imperial Hotel in Tokyo, needed a superintendent for the construction and landscaping of Barnsdall's own residence, Hollyhock House, and two smaller guest houses on Olive Hill at Hollywood Boulevard and Vermont Avenue. It was through this commission that Lloyd Wright met Schindler, who was working in the Chicago office executing working drawings for the Barnsdall houses. Over the next year, Lloyd Wright and Schindler, after his move to Los Angeles in December 1920, occupied Frank Lloyd Wright's office at the Homer Laughlin Building, next door to the Grand Central Market, in downtown Los Angeles.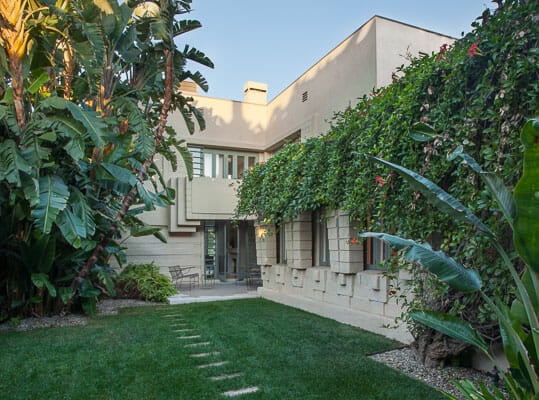 But 1920 was a critical year for Lloyd Wright with his father in Japan and Schindler on the job for Barnsdall, he struck out on his own. One of the most important events that year was when he met Otto and Henry O. Bollman, father and son, relocated from St. Louis. One of the main things he had in common with them was a musical background. Henry's grandfather—his namesake—had been a composer of popular Romantic polkas and waltzes in the 1870s and 1880s. He sold this sheet music out of his store where he also traded in musical instruments such as pianos. Otto became a partner in this business. Frank Lloyd Wright, a pianist, was so famously passionate about music that he formed a family orchestra with Lloyd playing cello.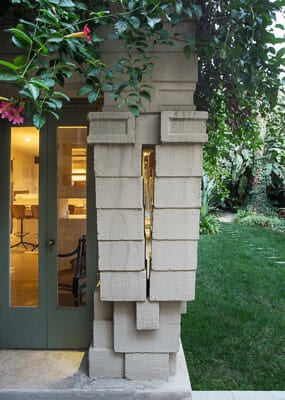 The other interest that younger Wright and Bollman shared was engineering. According to the 1917-18 Cornell University Register, Bollman was a student in the five-year professional program in mechanical engineering. However, World War I intervened at the close of his freshman year. In September 1918, he registered for the draft and by October he was serving in the United States Navy (there is no record that he returned to the university). Meanwhile, Wright had just spent the better part of a year supervising an antagonistic contractor on his father's Hollyhock House. He was so angry due to waste and cost overruns that he learned a valuable lesson the hard way: Choosing the right builder is the most important step in producing the building an architect designs. While Henry was deprived of a professional degree, Wright would become the beneficiary of his abbreviated engineering knowledge.
In the next five years, Wright would complete buildings that are clearly original visions of form and structure. Bollman was such an important part of this period of experimentation that the architect added his name to the legend on the drawings next to his own: Henry O. Bollman, Builder. This was a highly unusual practice. The historian, Dana Hutt, names Bollman as builder for the Otto Bollman House (1920-21), Henry O. Bollman House (1922-23), the Oasis Hotel (1923-24), the Harry Carr and Herbert How Houses (both 1925). All of these buildings are infused with the vigor and optimism of youth.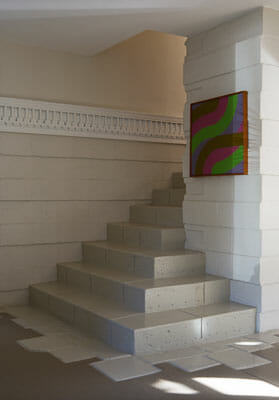 To understand the innovations of the Henry O. Bollman House, it is necessary to see it in the context of earlier and later buildings by Lloyd Wright and his father, specifically in terms of cast concrete blocks. Frank Lloyd Wright, following the example of his Chicago mentor, Louis H. Sullivan, consistently used ornament on his buildings. Sometimes, the ornament was carved from stone, but after 1910, it was often cast in concrete. A famous example is the use of a complex geometric 18" x 21" concrete block, applied as a frieze on the exterior walls of the Midway Gardens in Chicago (1913-14). These blocks were decorative and not structural.
The elder Wright continued this use on the Hollyhock House and a small, adjacent guest house, Residence A. It has been speculated that he wanted these buildings to be poured-in-place concrete, but they were built of conventional materials with cast concrete ornament applied to the surface. The most well- known of these was the "hollyhock" motif that trimmed the canted roofline of the Hollyhock House.
Lloyd Wright first used cast concrete ornament on the Otto Bollman House, which was in construction between November 1920 and February 1921. He placed a ribbon of blocks as trim on the top of the flat smooth walls. The decorative program for that house was so extensive that the small blocks were almost lost on the richly expressive surfaces of the structure.
His next independent work was the Henry O. Bollman House in 1922. The first drawings are dated December 1, the deed was conveyed on December 6, and the building permit was issued December 22. At the time of construction in 1923, the architect was thirty-three years old and Bollman was twenty-three. Though the client was young and unmarried, Wright's program called for a two-story residence with three bedrooms and a maid's room off the kitchen; the surviving drawings indicate the original intention was the use of concrete and wood—standard block walls as a base that would stop short of the first floor ceiling, topped by a superstructure of conventional wood framing ornamented at discrete areas with patterned block.
Aesthetically, the Henry Bollman House has much in common with the elder Wright's Barnsdall Residence A, which itself is reminiscent of Louis Sullivan's Wainwright Tomb (1892) in St. Louis, a monument that architecturally addressed surface and ornament. The Sullivan ornament formed a continuous line following the upper edges of the tomb and door frame. At Residence A, this method was repeated with concrete ornament framing windows and walls. The same use of ornament can be seen in the main feature of the street elevation of the Bollman House: The balcony and the opening for the French doors of the second story bedrooms. An archival photograph taken circa 1925 shows two patterns of concrete block, which appear today to have been plastered over at some point in the past.
In a 1966 interview with the historian Esther McCoy, Lloyd Wright stated, "I had done the Bollman House in cast block similar to [Frank Lloyd Wright's] Millard House and in looking for some way to get it to hold together and coordinated, I worked up this core system. Father saw it and saw that this concept could be worked into a total system, so he put me in charge of his first total-system block house, the Dr. Storer house."
This important encounter took place in early 1923 when the elder Wright, permanently back from Japan, moved to Los Angeles, entered into a partnership with his son, rented a two-story house at 1284 Harper Avenue (in what is now West Hollywood) as a studio, and staffed it with two architects: William E. Smith and Kameki Tsuchuria, who was accompanied by his wife, Nobu. At this time, the Bollman House was in construction. When Atsuko Tanaka, Tsuchuria's biographer, asked him if Wright's use of the concrete "textile block" was derived from his structural work on the Imperial Hotel, the Japanese architect answered, "No, the direct connection was from the Bollman House to the Millard."
While surely there is a link, the idea as Frank Lloyd Wright perceived it was conceptual, rather than literal, as there are distinct differences between the Bollman and Millard houses. The Bollman block that was used for the first-floor walls—a sample of which was recently inspected on site—is rectangular with a single hollow core, measures 8 inches high x 18 inches long x 12 inches deep with the thickness of the concrete around the single rectangular core at 4 inches wide. It is similar to a standard block that had been in use for decades.
The ornamental blocks that surrounded the second-floor balcony were different; they were applied at corners and at the bottom edge. According to Edward Losch, an expert on the textile block system, "Lloyd Wright came up with the idea of casting sleeves along the block edges and 'knitting' grouted reinforcing to hold the blocks together. The intent was decorative, non-structural." It must be assumed that it is this patterned block that Lloyd Wright meant when he explained that he used metal rods vertically and horizontally. The use required an innovative new way of attachment.
Yet the Millard blocks were not the same. According to the historian, Robert Sweeney, in his authoritative Wright in Hollywood, the walls of the Millard House consist of two basic blocks, both 15 1/2 inches square, interlocked in pairs, without metal rods for reinforcement, and laid with mortar like traditional masonry such as brick. As a result, the Millard House is not really a textile block building. That system was not used in construction until the John Storer House (1923-24)—as Lloyd Wright stated—where the square blocks were designed with semi-circular grooves on all four sides, so that when laid together horizontally and vertically, an open circular channel was created. Within this channel, metal rods were threaded; then liquid concrete was poured from above filling the openings. When the concrete dried, the wall became load-bearing.
The other very distinct difference between the block houses designed by this father and son is that the elder Wright used square blocks—most molded with complex rectilinear and diagonal patterns—for all interior and exterior walls. His son, on the other hand, expressed the wall as a plain unadorned surface juxtaposed with trim or sections of patterned blocks for contrast. The younger Wright's use was ornamental and not structural. Yet he was more practical in his application, thus avoiding some of the durability problems that cling to the extant textile block houses.
The importance of the Bollman House rests less on how it influenced Frank Lloyd Wright's later work than in the quality of the architecture itself and as an example of the maturing of Lloyd Wright beyond his formative experiences, as he distinguished himself in his deft handling of scale and proportion. Take, for example, the street elevation where the oversize cubic volume appears to hover over the solid base. He accomplished this with his original manipulation of the materials. The standard concrete block wall, which stops short of the full height of the first story, seems to recede while the visually lighter enclosure of wood frame, lath and plaster projects outward. The balcony is a tour-de-force due to the offsetting, which produces the visual illusion that the balcony is moving forward in space. The building is solidly grounded; at the same time, the composition is dynamic.
The architect's skill is evident on both the exterior and interior. Another obvious example is the row of columns on the outside of the kitchen wing. They rise from a narrow base growing wider as they reach the block wall above. While using a common concrete block, Wright gave the wall a visually rich appearance by manipulating the material in scale and proportion. On the inside, a simple walk through the public rooms—entry, living room, dining room—is another demonstration of how space can be compressed and then released, of how abstract forms can suggest movement and energy.
To fully understand Lloyd Wright's architecture, especially from 1920 to 1930, it is necessary to discuss the assertion that he was creating Mayan Revival buildings. In Los Angeles, from 1900 onward, designers and architects turned to historic styles such as Mission Revival, Spanish Colonial Revival, English Tudor Revival, French Regency and many others to apply architectural elements to their work to satisfy their client's desire for nostalgia. They were engaging in acts of historicism, clothing their buildings in features from the past as ends unto themselves. This was not what Lloyd Wright was doing; and it was not what Gill, Schindler, or Wright senior were doing either.
All four of these architects can trace their inspiration back to Sullivan in Chicago; Gill and Wright senior because they worked for him in the early 1890s, and Lloyd Wright and Schindler, who came under his influence much later. As a leader in progressive architecture, Sullivan vehemently rejected European Classicism and its derivatives. He sought artistry in non-Western pre-industrial design such as he observed in Islamic, Japanese, and Pre-Columbian cultures. Much like Pablo Picasso and George Braque, who used motifs of African art as a basis for Cubist painting, Sullivan's purpose was to discard the dead weight of the nineteenth century by using primitivism to invigorate the art of architecture.
No one has ever claimed that Picasso was making African Revival paintings. He was synthesizing these sources to make a new art for the twentieth century. Lloyd Wright was doing the same thing in the Henry O. Bollman House. While, it is true he was following both Sullivan and Wright senior before him in this regard, he had his own unique vision—and it is this vision that remains evident today in the Henry O. Bollman House, one of his masterworks.
Contact us about this property:

Error: Contact form not found.